The Tikka Superlite Stainless is well known to most NZ Hunters – safe to say for the longest time it was the most popular centrefire hunting rifle in NZ.
So – now Beretta NZ has brought a new version to the NZ Market – exclusive to Hunting and Fishing, no less!
I was asked to set up a clients new rifle – so figured I should take a few moments to also put out what I think of it.

What is new?
Much of this rifle will already be familiar to hunters. The particular one I was given was a 300WSM – one of the cartridges I have always taken a bit of a shine too.
Action and Barrel
The core of the rifle features the same action as the Superlite – with a longer barrel being factory fluted and threaded. This is important (the threading bit) because getting an aftermarket threading can void the factory warranty – I would suggest – before you take any rifle to get fluted – that you shoot and test it first – that way, if any issue does arise – you can prove it was shooting before a gunsmith modified it from factory.
Larger Magazine
Most of the rifles (bar the 300WSM) have a larger, 5 round capacity magazine, instead of the standard 3 round. For me – this makes no difference – I am very unlikely to need 5 rounds hunting – and – if it's going to do double duty as a target/field comp gun – then I am going to want 10 rounds instead and likely jumping to a CTR. But – some people might need it. If you do – you might also consider signing up to a fundamentals course and sort your shooting. ;P
Stock and Ergonomics
The main difference is appearance and ergonomics.
The stock is a green, matt finish – and features a raised cheek rest, soft-touch grip and larger bolt knob.
The raised cheek rest will help with those utilising scopes with a larger objective lens, or simply just using higher rings. This contributes to a solid cheek weld – which can in turn help with shot repeatability – especially with scopes that don't have an adjustable parallax. Getting your head on the rifle the same way each time helps in regards to shooting fundamentals, helping with recoil management and repeatable accuracy.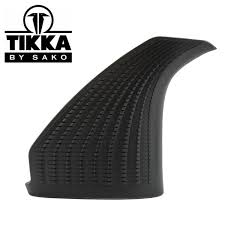 I would personally still replace the grip with the more vertical offering – bush or long-range gun – I prefer the trigger finger presentation a more vertical grip provides, and still, personally, have never had a grip slip out of my hand. Reminds me of the grippy toothbrush offerings – has anyone ever actually had a toothbrush go rogue on them?
Finally – a bigger knob. Well… why not I guess. Again – don't really have a problem with standard-sized ones for hunting use – but – I suppose I do appreciate a larger purchase on my knob while in the bush.
Setup
This particular rifle was headed off to hunt Wapiti in the coveted Edith Block. So I ran a dry patch through it, checked torque settings on the stock, base and scopes and put some rounds through it to see what it could do.
It already had a Swarovski Z5 on top of it – I am a particular fan of the Swaro Z5 scopes – if the owner understands their limitations. After making sure the owner understood this, the client wanted me to zero, Chrono and setup with ballistic turret to go out to 500 meters. Some of you might already know that the Z5 only has the three 'dots' that you can set – but we came up with a fairly simple and effective solution!
[/membership]
Supporter Bonus Content
Site supporters get to see the zeroing/test targets, ammo and velocity results and my thoughts on what I liked and what I would change with the rifle.