Preparations (pulling out seats)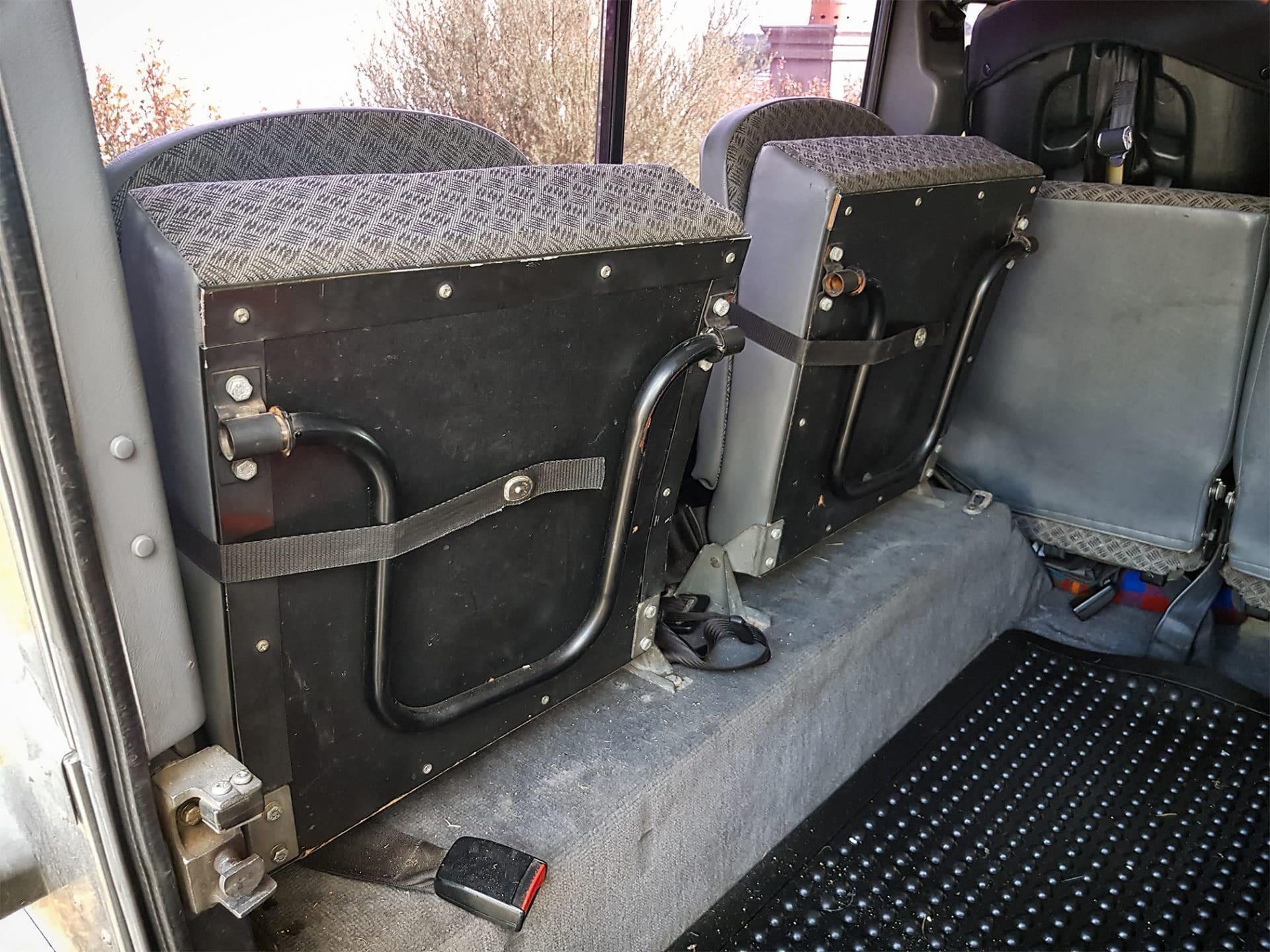 While it is kinda cool having the capacity to carry nine people – those extra seats in the back of the 110 also take up a bit of space. We had already taken one trip packing both my girls and their two cousins, so I figured it would be a safe option to take out the one side at least.
After a bit of frustration trying to do both ends of the bolts myself (kettlebell nearly worked) – I made a quick visit to the bro's to get an extra helping hand. Under the truck in the dark is always a bit of fun. But two hands made quick work.
I have quickly sealed in the inside of the cab – but the long term is a set of drawers and some shelves – so it's really only a case of stopping any splash/washing water ingress for the moment.
A $25 box from Bunnings tidied up an open top box I have had in the back for the jack, oil(s) and fluids and a few tools and spares, and moving the Chilli-Bin opened up a decent whack of extra space. It's still a little in flux, but we are getting there.
The Plan
It really seems we are a little short on one-two day trips in the upper north that get off the beaten track but don't require a serious level of 4wd. The plan is to eventually do tracks like Thomson, but in the meantime (until I sort a winch etc) I am looking for trips that aren't on the main highways.
I actually found two suggestions on WikiLoc –
https://www.wikiloc.com/trails/offroading/new-zealand/auckland – though, information is sparse, so it was a bit of a punt. However, glad to report it was well worth it!
Google Maps – My Maps – great concept, but of little use in the truck.
So, I decided to use My Maps, part of Google Maps to plan the trip. It's not the worlds most intuitive system, but, it allowed me to set some points of interest and create a custom route from each point.
The problem is, when you then load it up in the phone (which really is to this point, a seamless process), you cant actually use much of the maps you have created. You certainly can't just load up the planned route and follow it. You can select a point of interest – but then google maps tries to sort the best route – which isn't always the one planned. This was the case in point – as it tried to get me to take the main roads – not the point of the trip.
In the end, I just manually entered a series of 'points on the map'. This means I had an ETA to some arbitrary point on the map – not the actually planned stops.
I would love to have a screen that gave me an ETA to the end of the trip, and an ETA to next waypoint. Much like I have setup on my Garmin GPS unit. I have played a bit with several other apps, which don't have the turn by turn navigation options that Google Maps does but still looking for one that actually works like I think – which is always the ultimate. Rather than having to mould yourself to a systems way of thinking, the ultimate goal is to find a tool that moulds itself to mine. No problem customising things, but it needs to have the functionality at its core.
Also, as soon as you go 'offline' all the data in My Maps is no longer available anyhow. Not sure why it can't cache locally – but really makes it useless for any overland work, though, it's kinda useless anyhow because you can't actually use the tracks you have planned. Odd. It really seems like the two development teams don't actually talk to each other.
However, being a google product – embedding, sharing all of that is very simple.
Anyhow, onto the roads we went.
Port Waikato to Raglan, via the coast!
Really, really enjoyed this part of the drive. Heading out to Port Waikato, we headed south. Alice (the Missus) had spent a bit of time as a kid out at Port Waikato, but never headed south from that way – neither had I – we headed off into the hills and quickly hit gravel.
I will say, none of the roads really even required a 4wd – Most cars would get through without any hassle – but something about being off sealed roads was nice. Yes, I am sure my rural readers will find this rather quaint, but whatever. Most of you are living in cities at this point in time.
It always amuses me just how much land is really out there. It also frustrates me, because I do see so much land that would be suitable for long range shooting courses and competitions – but that's another issue. Even with rain coming in, there was great views to be had, some very interesting geological structures, and a great view of the coast.
We stopped a couple of times along the way for photos and to stretch the legs, making our way down to the Nikau Cafe for a 'late' lunch.
The Nikau Cafe
What a find. It's really an easy day-trip from Auckland – and if you want, I believe you could even head straight down on the main highways and stay on the seal the whole way. However, we all already know those roads. It was nice to explore something new.
Nikau Cafe has an awful lot of charm. While the kids were a little small to head off to the glowworm caves (it requires a bit of walking/rambling and they recommend them to be over seven) – our intent was really just to stop for a break and a snack anyhow.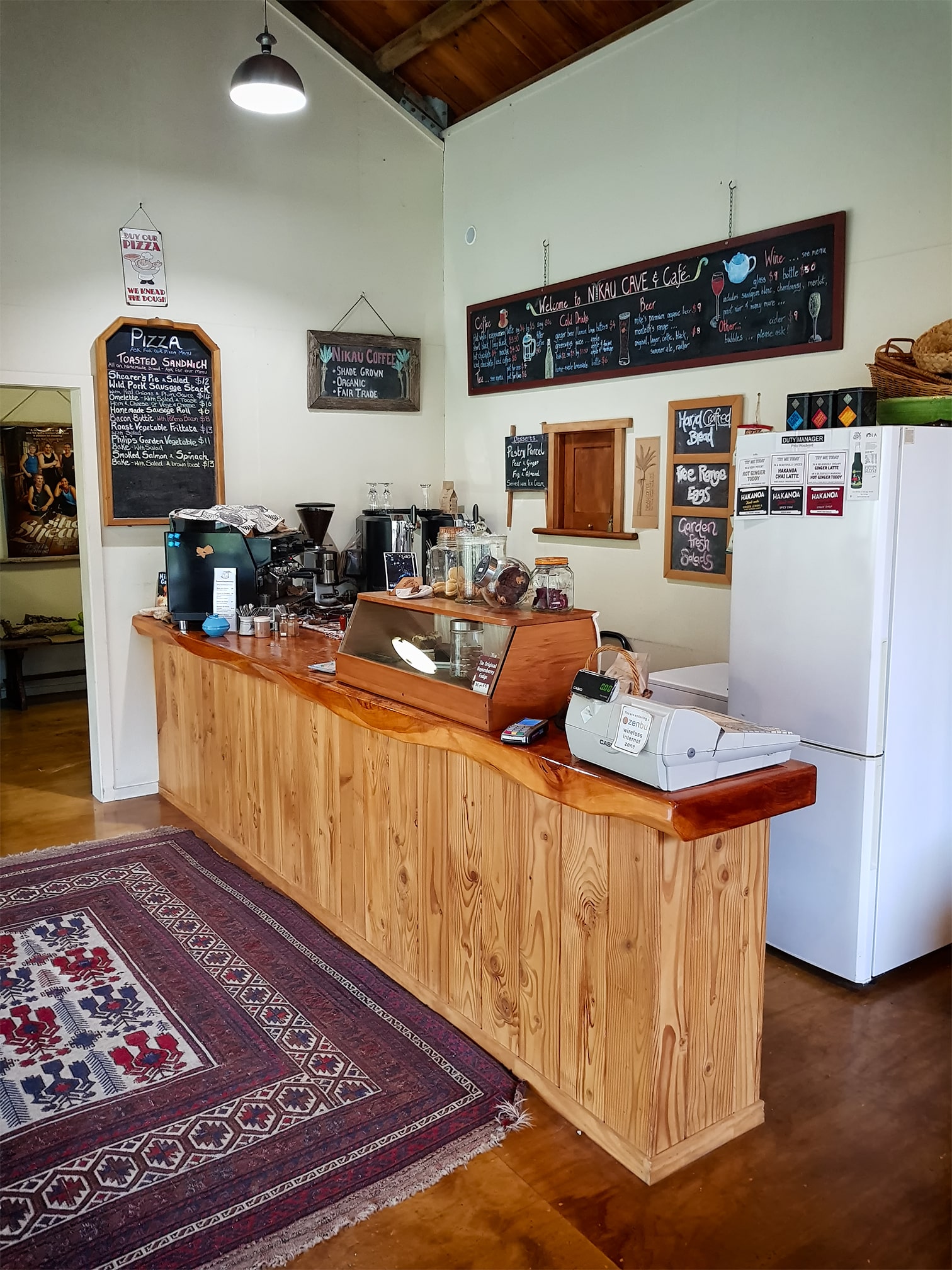 The three cheese and maple syrup was a personal favourite! Good coffee (roasted themselves), awesome homemade lemonade, and a lot more on the menu I would actually be keen to head back to and check out again.
Plenty of things to keep the kids and the adults interested, and, we were given some Chayotes to take home (more on that later).
The kids didn't want to leave. Maybe something to do with the piles of soft toys that were there. However, they did eventually put everything away and we headed off again.
Raglan Holiday Park
The rest of the drive down to Raglan was more great views. Down the coastline, finally arriving at the Raglan Holiday Park, our home for the night.
I set up the Feldon Rooftop Tent, while Alice kept the girls busy. The beauty of the system is that it can be up and sorted within five minutes if need be, a little longer to tweak and open up some of the windows.
The loose plan was for Alice and the two girls to sleep in the tent, while I was going to sleep under the tent floor in the bivouac. I knew a few showers would be through, but instead of setting up the tarp as we did at Hot Water Beach, I wanted to try to make do with the shelter of the tent above.
A simple dinner of 'campfire quesadillas' – which basically reminded me the importance of quality ingredients (in that, the recipe is fine, but nicer base ingredients would make a hell of a difference), a while playing with the selection of Lego on offer for the kids (Lego and kids seems to always go well) and the girls were off to read books in the tent, while I sorted my sleeping arrangements for the night.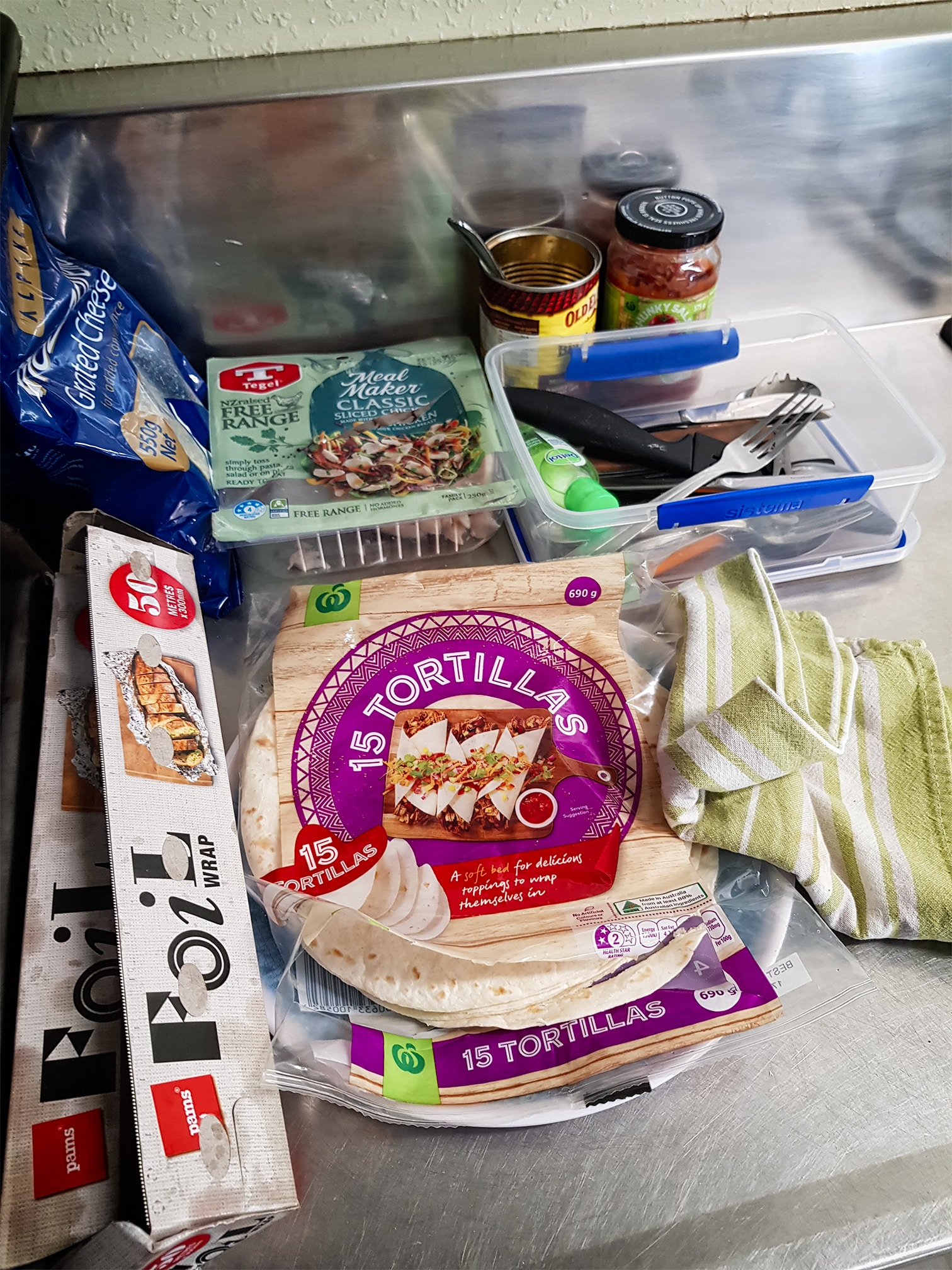 Wet Feet
We are looking at getting the 'Spare Room' – basically, an awning that zips around the perimeter of the extended tent, where it hangs out over the truck. It had occurred to me, that it would likely be long enough for me to simply drop the mattress down the long side of the room – which would mean I wouldn't have to worry about the bivvy bag, use either an air mattress or even a camp stretcher, and stay dry. As it was, while my feet were hanging out from out under the tent (and got rain on them) the Goretex bag kept everything dry. Though, I did keep slipping off the side of the not-quite-wide-enough Thermarest mattress.
The campground had everything we needed, though essentially, we just slept and ate there. Of course, I intend to get away from the campgrounds soon. But with the two little girls, having some basic facilities and things to keep them occupied is currently a welcome bonus.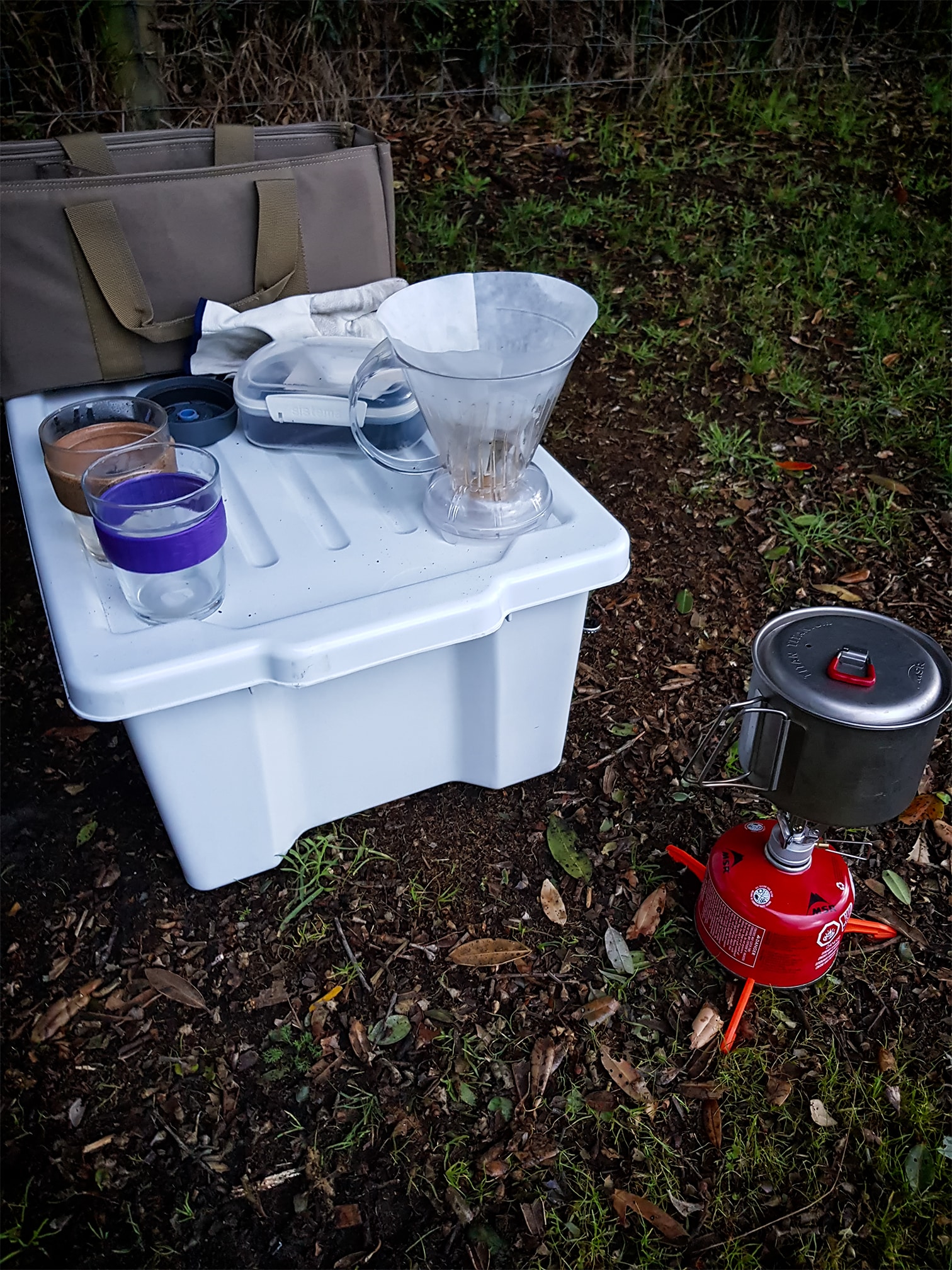 Day Two
Coffee. Breakfast, and we were off. I made pancakes, which, needs work. Too much water I think. Spongy.
We headed into Raglan, explored the wonderful playgrounds there with the girls for a bit, then headed off.
The loose plan was Hamilton, via another track I had identified online – Old Mountain Road
Old Mountain Road
Old Mountain Road sits between Raglan and Hamilton – a favourite for runners and mountain bikers, its again, a gravel road, though seemingly well maintained.
As we were heading through the roads, we came across something a little strange. A large concrete barricade. I had read the term 'tank trap' online. Though I am still really unsure of the original purpose of the structure.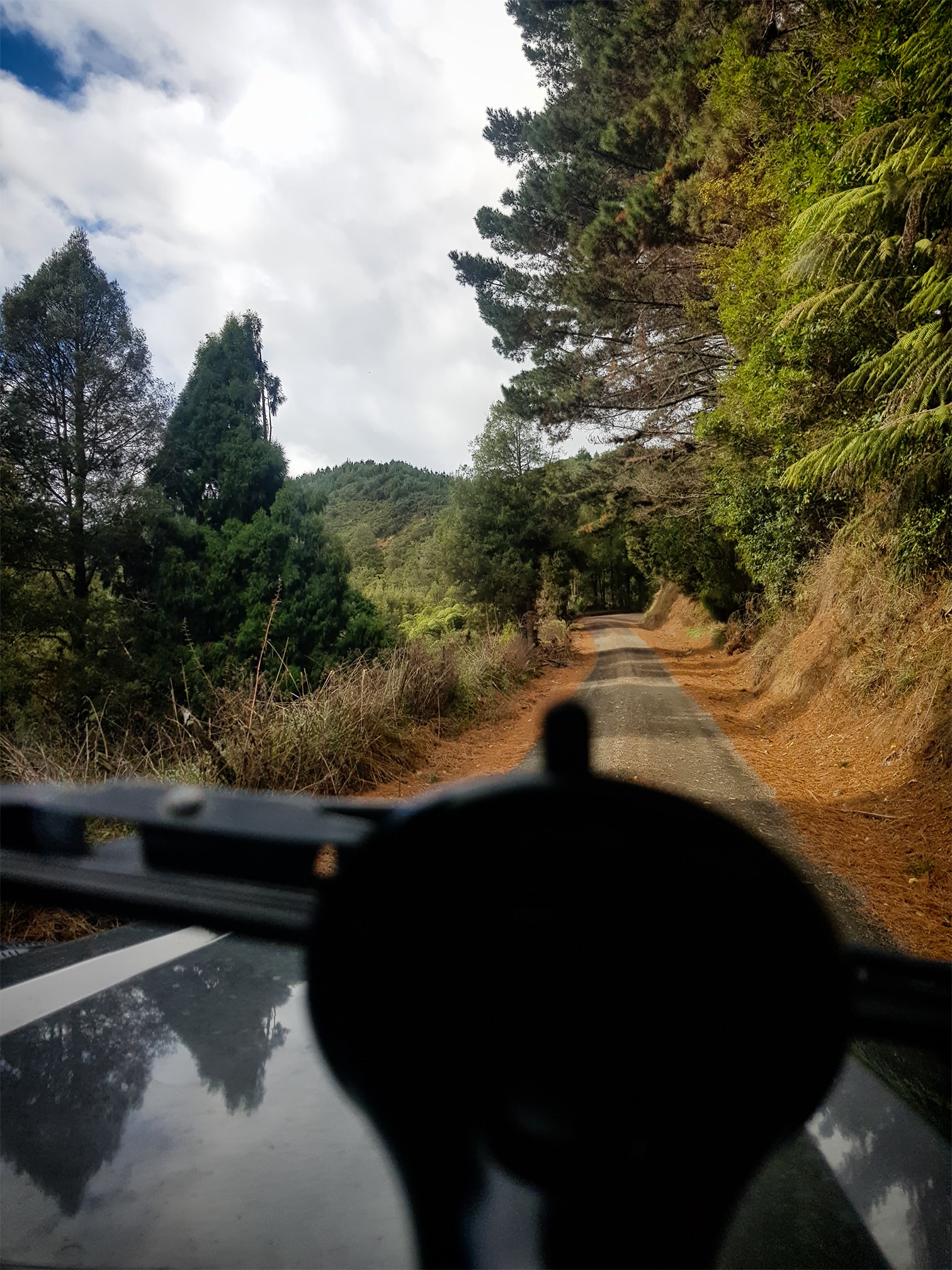 It became a bit of a tour of cafes – an afternoon visit to 'The Village' Whatawhata. Another great cafe. I would highly recommend the Baked Eggs. And make sure you have a change of clothes for the kids, as there is plenty of outdoor playgrounds for them to get a bit dirty in.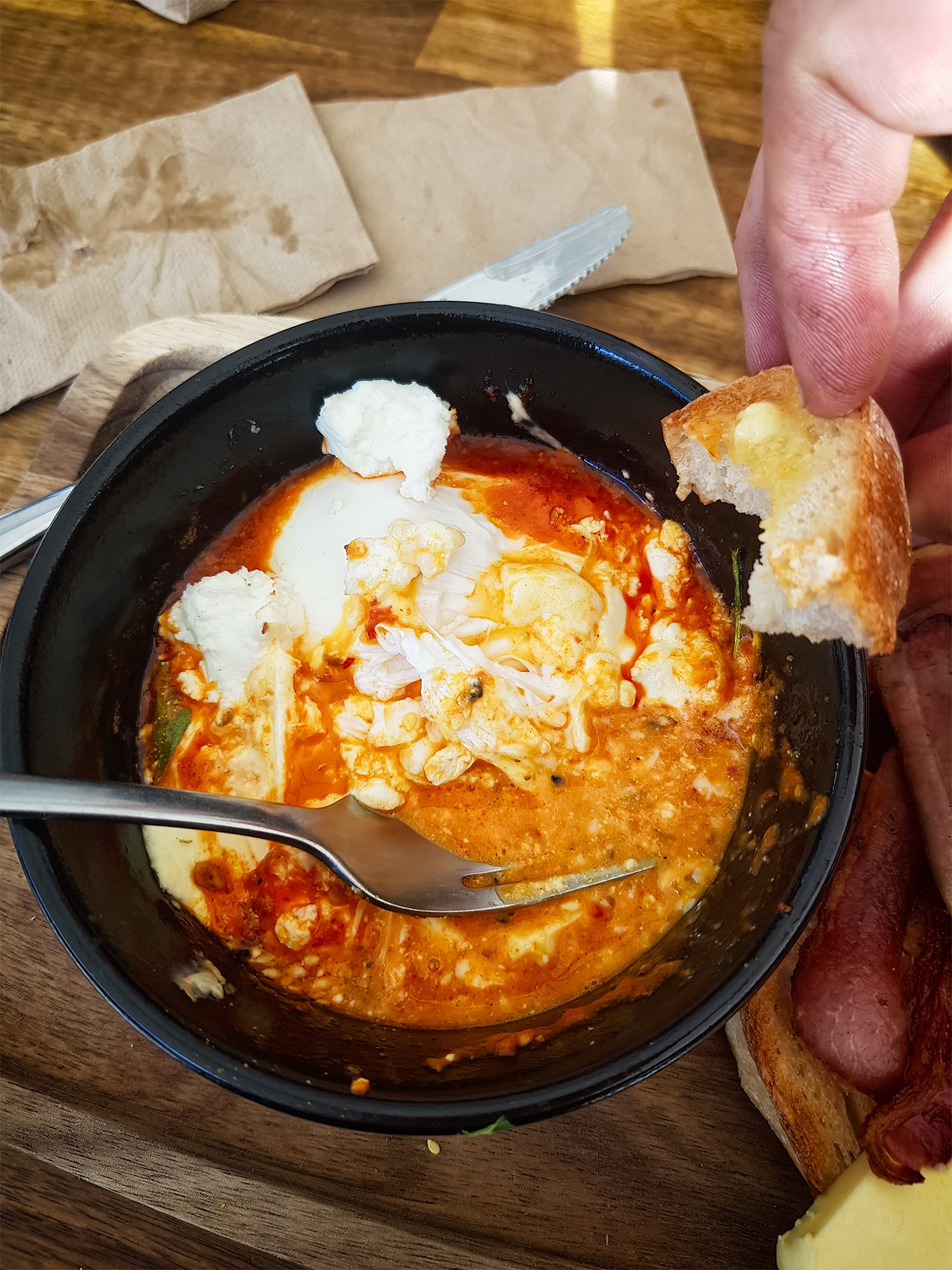 Instead of headed to Hamilton, we decided to stay at the Cafe longer and then headed back up, joining back up with the main highway just south of Ngaruawahia.
Overall, it was a simple, but enjoyable trip. We are slowly sorting out our systems in regards to cooking and packing, and looking forward to slightly longer, and more remote camps as well. Lots to improve/change/tweak. And having a lot of fun doing so!
Chayote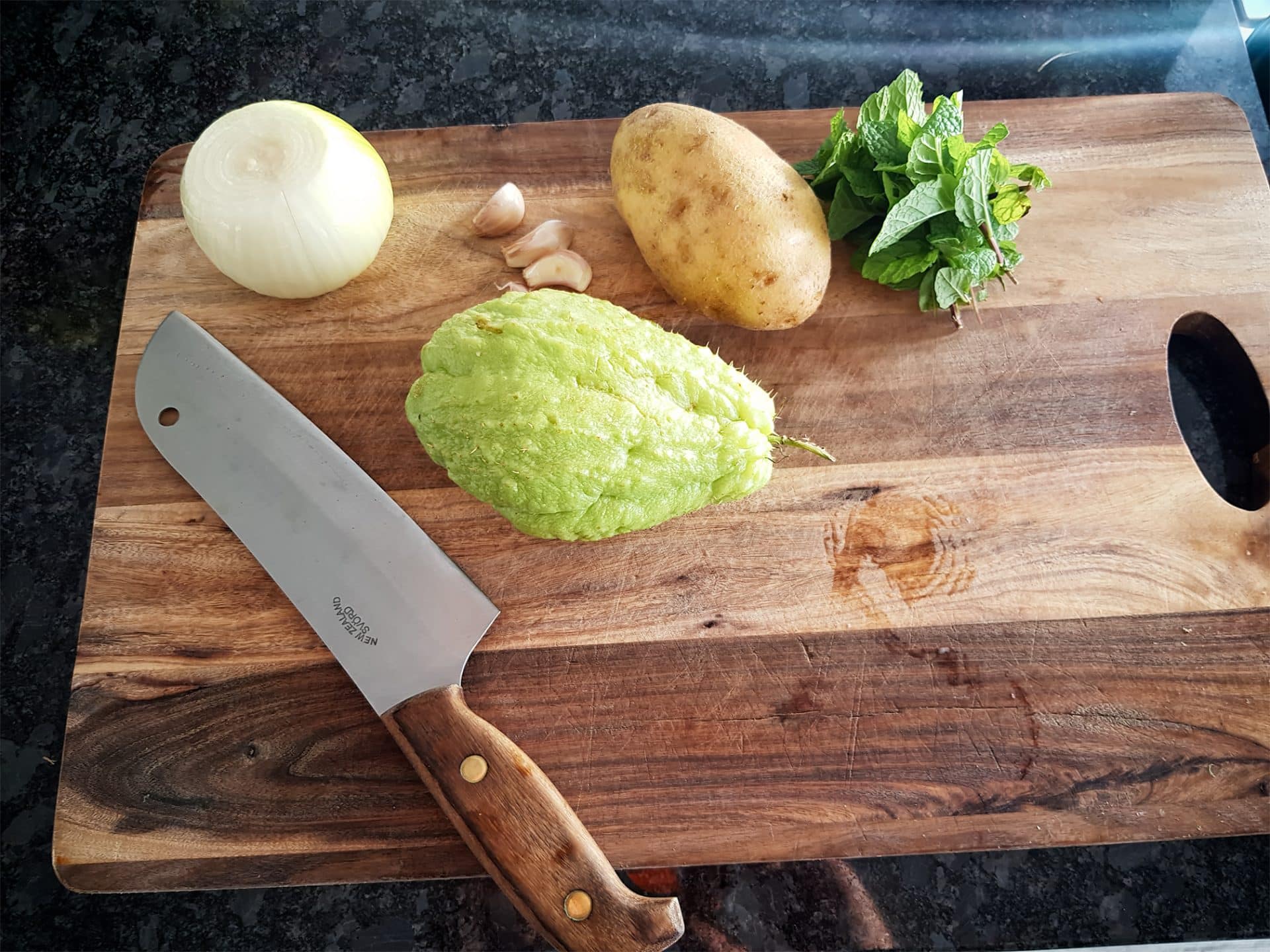 Never cooked it before. Lots of butter, onion, garlic, salt, pepper and a spud. Tasty – but oddly enough – tasted mainly of garlic and salt. Which is fine by me.