I decided towards the beginning of the year that I wanted a wagon for tramping – particularly after heading up a few trail-heads along long, unmaintained gravel roads – I was always dubious if we would get back out in Alice's Hatchback, should the roads get muddy.
I weighed up between a relatively 'safe' 4×4, like a Surf or Patrol, and something with a little more character.
I have found, over the years, that I am personally a lot more happy spending money on maintaining something with a bit of character, and I know that regardless of what I ended up with, it was going to be a little bit older, and was going to require money and maintenance. I was also keen to get something 'relatively' simple – something with carbs, something I could learn to do the basic jobs on, and essentially up-skill myself a bit on mechanical work.
I started looking around a vehicles, and soon, unsurprisingly, ended up looking at the Landrovers. In particular, the Defender series. Look on Trademe for second hand vehicles, I started spotting a particular model called the Stage 1 – not a Defender as such, but more the precursor, or prototype for what would become the quintessential off road Landie.
The New Zealand Army used to use the Stage 1 as a primary vehicle – so there are actually quite a few around NZ, it various states of repair – from wrecks, to nearly fully restored examples. While somewhat quirky, and definitely a bit of work, they are also considered a good project vehicle – with spares and information easily available.
Looking online, a particular sales caught my eye. A non-army 1984 Stage 1 Landrover Flat Bed – in fairly original condition, and, what really caught my eye – a 1 month old warrant!
I headed down to Waiuku, had a look, kicked the tyres and headed around the block to see how it ran. The owner explained all it's quirks – but essentially, it looked like an old, but good example of a Stage 1.
In hindsight, yes, I should have gotten it looked at by a independent mechanic, but since it had a brand new warrant on it I figured it would be compliant in regards to the basics – I knew it needed a good tune, and some superficial bodywork – that was what I expected – no illusions that it was going to take some work. Sold!
Unfortunately, as I found out when I took it down the the extremely helpful guys at Bramble Downs (a specialist Land Rover mechanic in Kumeu) – the new warrant really didn't mean much at all.
I took it to Bramble Downs, essentially to start planning a little bit of work on it – a basic tune, removing the carborettor restricters, the basics. The plan was to pay them to give it an initial once over, while I hung around and started learning how it all fitted together.
Unfortunately, the moment it was up on a hoist, the guys started highlighting some fairly major concerns. Suddenly, instead of a basic service – I was looking at a list of reasons it shouldn't be on the road!
This was 1 month and 9 days after it passed a WOF Check on February 15th, a warrant issued by Beaurepaires Waiuku.
Here is the list –
For Immediate Attention and Safety:
Both Front marker/side lights not working
Right Front Head Light not working on dip
Serious Rust in Front Chassis Leaf Spring mounts
Left Front Leaf spring has a broken leaf
Rear Leaf springs swollen and distorted from rust
Most spring shackle and chassis bushes worn and showing signs of metal on metal contact
Serious Structural Rust in Rear Chassis around Rear Spring Mounts and where the Tow bar is mounted DO NOT TOW WITH THIS VEHICLE!!!!  Mounting points rusted away and Bolts look suspect
Left out rigger half missing/ cut away Rust?
Left Passengers floor cut away and very badly patched up
Rear shocks fitted upside down and wrong units for vehicle model
Front shocks worn / wrong lower bushes
Left Front and Right Rear Bump stops missing (rusted off ???)
Left Rear brake steel pipe not fixed down and stretched too tight, at risk of being broken if going off road (must be replaced for safety)
Both Front Brake Hoses old and Badly Perished
Rear Brake hose shows signs of rust on crimp (possible fluid leak)
Main Left engine mount perished and falling apart
All steering tie rods rusty, dry and torn boots
Rear Fuel line not secured to vehicle and at risk of rubbing through
Left rear wheel bearing needs adjusting
Both Front King Pins Badly out of adjustment / worn
Rear Tray not mounted, supported and secured to vehicle properly
Both doors only close on first catch
I took a couple of photos as well – more out of disbelief at the state of things.
I thought, to just confirm, I took it down to the local VTNZ – and put it through the process of getting a warrant.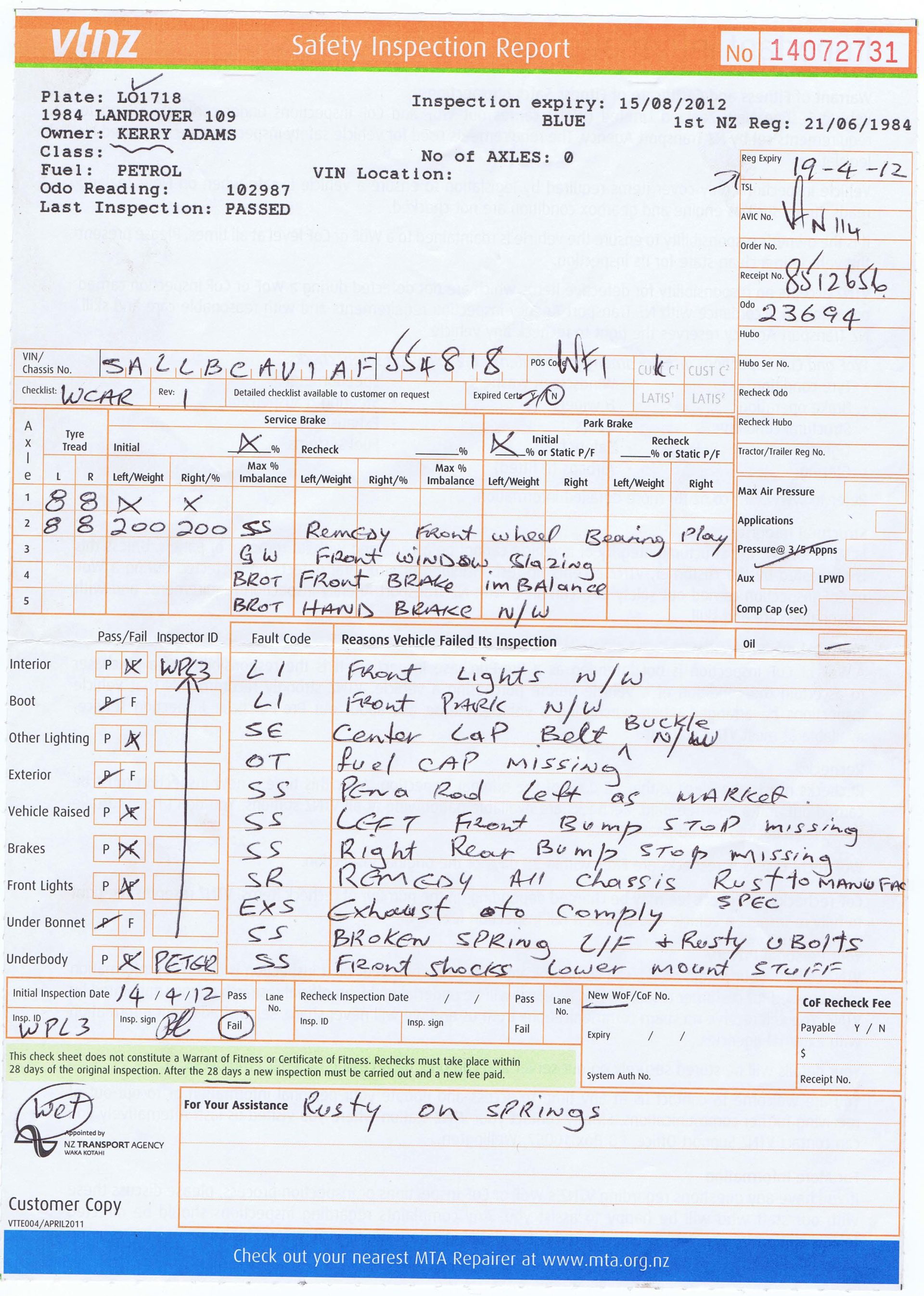 They told me to get it off the road.