If you have seen my previous post on the Hunters Element XTR jacket – you will know that while the Technical Waterproof Jackets are excellent – they do require a bit of care – not something they always get when I am flailing through bush lawyer at 1pm in the morning navigating by headlamp. What I needed was a hunting jacket that was warm, waterproof and rugged. Enter the Rugged Bush Coat!
Hunters Element Rugged Bush Coat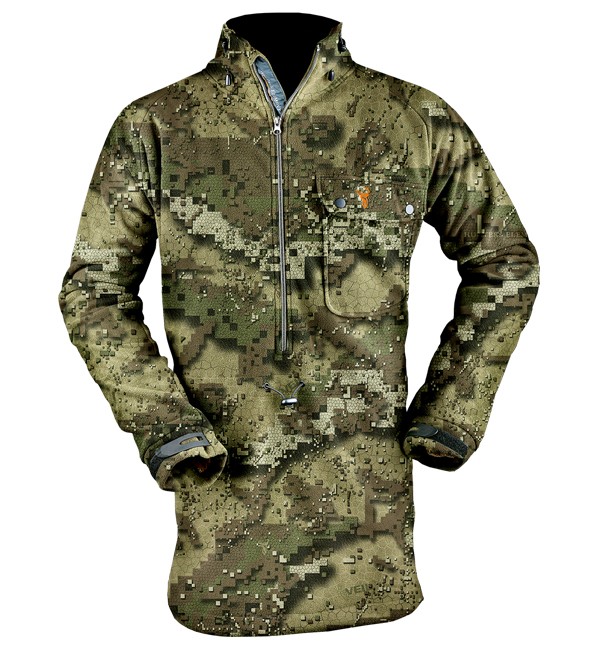 You can read up on my review of the Hydrapel Trousers for a quick HE overview. However, one thing I will quickly recap is the technical single layer vs. Brush Tricot design. Basically, Single layer is going to be lighter and hold less water, but potentially pull more if it gets hooked up on something. In addition, it's a little 'louder' when moving and brushing against foilage. Brushed tricot is quieter, more durable (at least not showing as much), but is heavier (it's a multi layer design) and will eventually wet out and start carrying water weight.
The Rugged Bush Coat is a Brush Tricot, the Hunters Element XTR Extreme is a single layer technical material.
In use
It has got to the point where I need to go out and find something else to wear. I want to wear this jacket everywhere – and I realise I have become 'that guy' – constantly wearing a camo jacket. I may have to just get the same jacket in green, or, look into the XTR Core Shell in Green. It's that good.
I would describe this jacket as 'snuggly' – I know it's not a very blokey thing to say about a hunting jacket – but that's what I feel as soon as I put this top on – snuggly. Not necessarily hot, but the fleece lining is very comfortable to wear and if you are cold, very quickly helps to get the core temp up.
I spend most of a week out in the Kaimanawa ranges in this jacket – bush bashing, hanging around camp – and I found it great. The cold mornings were a lot more bearable, the evenings comfortable. One particularly cold night I threw the XTR Extreme Jacket on over the top, but then to be fair, I only had a summer weight shirt on underneath.
The hood is good, snug but not too fussy – and it is easy to cinch it down if you want more of a tight fit. It's an interesting thing – because I don't think everyone realises that this jacket does in fact have a hood – certainly, all the images on the Hunters Element site could leave you thinking it didn't.
I really don't adjust the cuffs at all – they are just left normal – though I do sometimes notice that the right hand cuff on mine will come lose – it's just a case of wrapping it back around. I might just need to clean the velcro.
Again, as is my preference – it is a smock.
While I didn't get into any downpours, certainly is happily shrugged of the showers we found ourselves in. If I was expecting heavy rain, and planning on standing out in it for long periods of time, I would probably lean more toward my XTR Extreme – I guess it's close to the Hard Shell, Soft Shell idea. The brushed tricot on the Rugged Bush Coat will eventually start to wet out. However, for my primary use for it – Bushbashing – it's perfect.
Weight and Packability
The coat weighs 955 grams. It's able to be packed into a daypack, or even a large waist pack in a pinch – though you won't be fitting much else in there.
Would I change anything?
I would really like pit zips on this jacket. The main issue I had was having to take it on and off regularly in order to regulate the body temperature while climbing around the Kaimanawa Ranges. Pit Zips could go a long way to helping this. In addition, you could have another zipped or snap closed pocket on the other side of the chest. Though both these things would add cost, the the Rugged Bush Coat does manage to keep that down. You can't always have both I guess.
In Summary
I really, really like this jacket. I get torn between my Icebreaker 320 Hoodie and this for around town. This one often wins, but I end up being the guy wearing camo, and not in the bush. It's worth it.