Thankfully, one brand quickly caught my eye, and my investment in them has rewarded me well. Enter Hyperfly, the Rolls-Royce of jiu-jitsu gis. You might be wondering why you'd even need something as exotic sounding as Hyperfly, but trust me, when you're deep in a session, you'll value the quality and comfort this brand provides.
"The Hyperfly gi – a tangible essence of both style and substance, as unyielding in its performance as it is unmatched in its comfort."
Considering the myriad of choices in the market for Jiu Jitsu gis, why pick Hyperfly, you ask? Well, let's start with the fact that many top-level competitors consider it their favoured companion. Not only does it heighten your style quotient, but it also ensures that you're not left with a shredded pile of fabric post an intense roll.
The History of Hyperfly: From Humble Beginnings to Jiu Jitsu Stardom
Delving into the world of Jiu Jitsu, there is one brand that never fails to capture the attention of both rookies and veterans alike. One word: Hyperfly. But have you ever wondered how this brand came to clasp so much adoration and respect? Well, my friends, it's quite the journey.
Who'd have thought that a family of immigrants, newly arrived in the US from Germany, would give birth to a passion project that would shake up the vibrant world of Jiu-Jitsu? That's exactly how Hyperfly started in 2011. And although its roots were firmly planted in San Diego's sun-soaked soil, its branches have now touched every corner of the globe. Curious, aren't you?
Stories are great at capturing essence and hearts, so Hyperfly deeply associates itself with their strong motto, You Can't Teach Heart. Authenticity, diligence, and perseverance are the heartbeat of this brand, creating a strong, interconnected community of fighters filled with the Hyperfly ethos.
In the Hyperfly world, having heart means pushing oneself beyond the usual limits. It's about striving when others have given up, going against the tide, and enduring. It's not just about winning or earning medals but about what you've given of yourself in the process. It's about honour, not chasing gold. This resonates with the warrior spirit within each of us.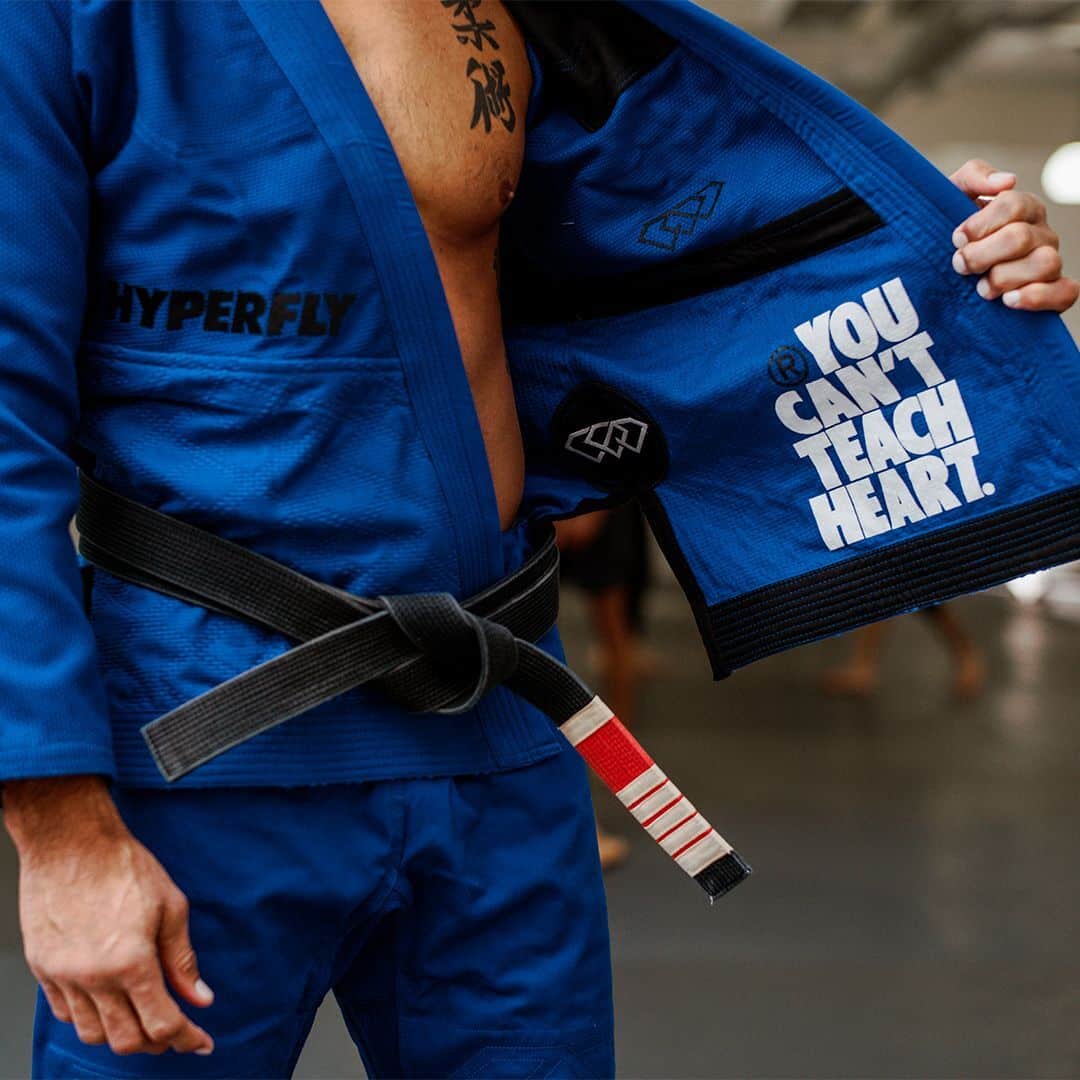 The Science Behind Hyperfly Jiu Jitsu Gi's: Combining Style and Functionality
I've often noticed the mesmerising contrast of seemingly effortless style and soulful functionality in Hyperfly Jiu Jitsu gis. So let's delve deeper and see how this distinctive brand balances these two essential elements. It's like watching a tango performance — undeniably exquisite yet requiring intense skill and precision in every movement.
Material Innovation and Durability
I've realised that in the sport of Jiu Jitsu, choosing well-crafted gis isn't just a matter of aesthetics; it's a matter of necessity. Hyperfly, a market leader, knows this and combines specially engineered textiles with innovative construction techniques to make their gis not just durable but essentially bulletproof.
Weave style and fabric strength play a pivotal role in this. Hold one in your hands, and you can immediately feel the formidable strength that hides behind its gentle exterior.
Focusing on Athlete Comfort
But what's the use of a strong gi if you can't move freely in it, right? Hyperfly's gis are designed with athlete comfort as a priority. Special care is taken to ensure that the gis are lightweight, moisture-wicking and enhance breathability so that you can focus on your moves, not on adjusting an uncomfortable outfit.
Authentic Style and Personal Expression
But Hyperfly is not just about technical perfection. They are acutely aware that for many athletes, Jiu Jitsu isn't just a hobby or a pastime but a part of their identity. This is where authentic style and personal expression enter the ring!
Hyperfly's design philosophy marries traditional aesthetics with contemporary trends — be it the classic white gi or the edgy colourways on offer. Each gi offers a platform for personal expression, letting your unique style shine through. Their collections showcase the true diversity and inclusivity in this beautiful sport.
The combination of incredible material innovation, a focus on athlete comfort, and authentic self-expression not only makes their kit technically sound but also adds a dash of personal flair for good measure. Because, let's face it, Jiu Jitsu is all about the beautiful blend of skill, strength, and individuality.
Choosing the Perfect Hyperfly Jiu Jitsu Gi: A Comprehensive Guide
Choosing the perfect Hyperfly Jiu Jitsu Gi can feel a little bit like being a kid in a sweet shop – a very focused, athletic kid in a sophisticated sportswear shop, to be more precise. With countless options available, it can be overwhelming, and you may wonder where to start. Well, fear no more, dear reader, because I've got a comprehensive guide on how to pick your first, or perhaps next, Hyperfly Gi.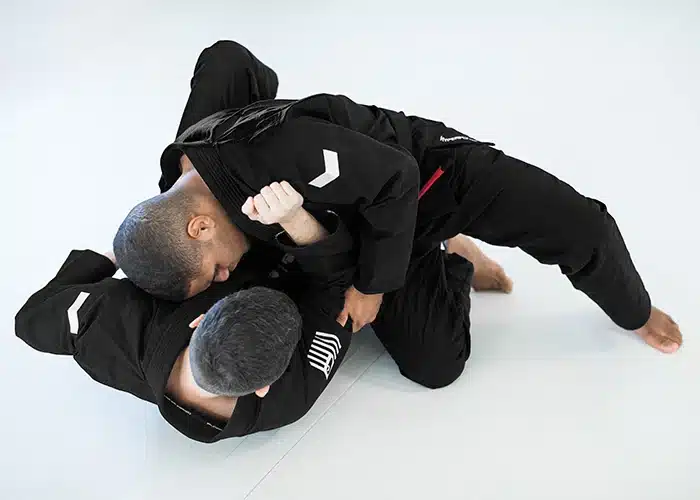 Understand Your Needs
The first step to choosing the perfect Gi is to understand your needs. Are you after comfort, durability, style, or perhaps a clever blend of all three? The training environment, frequency of use, and personal preference can influence your choice significantly. Just as you wouldn't wear a tuxedo to a beach party (unless that's your thing, in which case, more power to you), you wouldn't want to wear a heavy Gi in a steamy gym, or a lightweight Gi that won't withstand the test of time.
Know Your Size
You might chuckle, but I've seen plenty of newbies strutting around the dojo in a Gi that's either too big or too small, and let's say – it isn't a good look. I have struggled with it myself. Too small and it can start to constrict movement; too big – and the baggy sleeves provide more gripping options for your competing and constant battles for yourself as you swim in your jacket.
I am 184cm (just over six feet) and weigh, on average, around 86kg. This puts me almost smack bang between an A3 and A2 jacket size. My suggestion, based on experience, is, if in doubt, drop down a size. In my case, I originally went for an A3 and found it big around my waist and chest and short on my legs and arms.
It took me a little time to realise the chest and waist were the issues in regards to sizing, and I ended up going longer – A3L – which helped with the leg length, but, in combination with the extra fabric around the chest and length on the arms means I have had the comment made, more than once – that I am presenting a world of grips to my partners at the end of my arms.
In the end, I am heading towards a combination of A2L pants and an A2 Jacket – which – you can do in the Starlite or Hyperlite ranges (you can order 'spare' trousers separately).
Getting your size right is of paramount importance. Hyperfly provides a detailed size chart for males, females, and kids, clearly outlining measurements for each size. So, I would suggest, instead of basing it on weight (and/or height), grab a measuring tape, enlist a friend or family member, and make sure to get it spot on. Also, remember, if you get it wrong, Hyperfly does allow you to swap unworn GIs out. However, I also appreciate that, like me, it's hard to fully understand and appreciate fit until you have worn a GI for a while. You need to roll in these things to check them out.
Shrinkage & Cleaning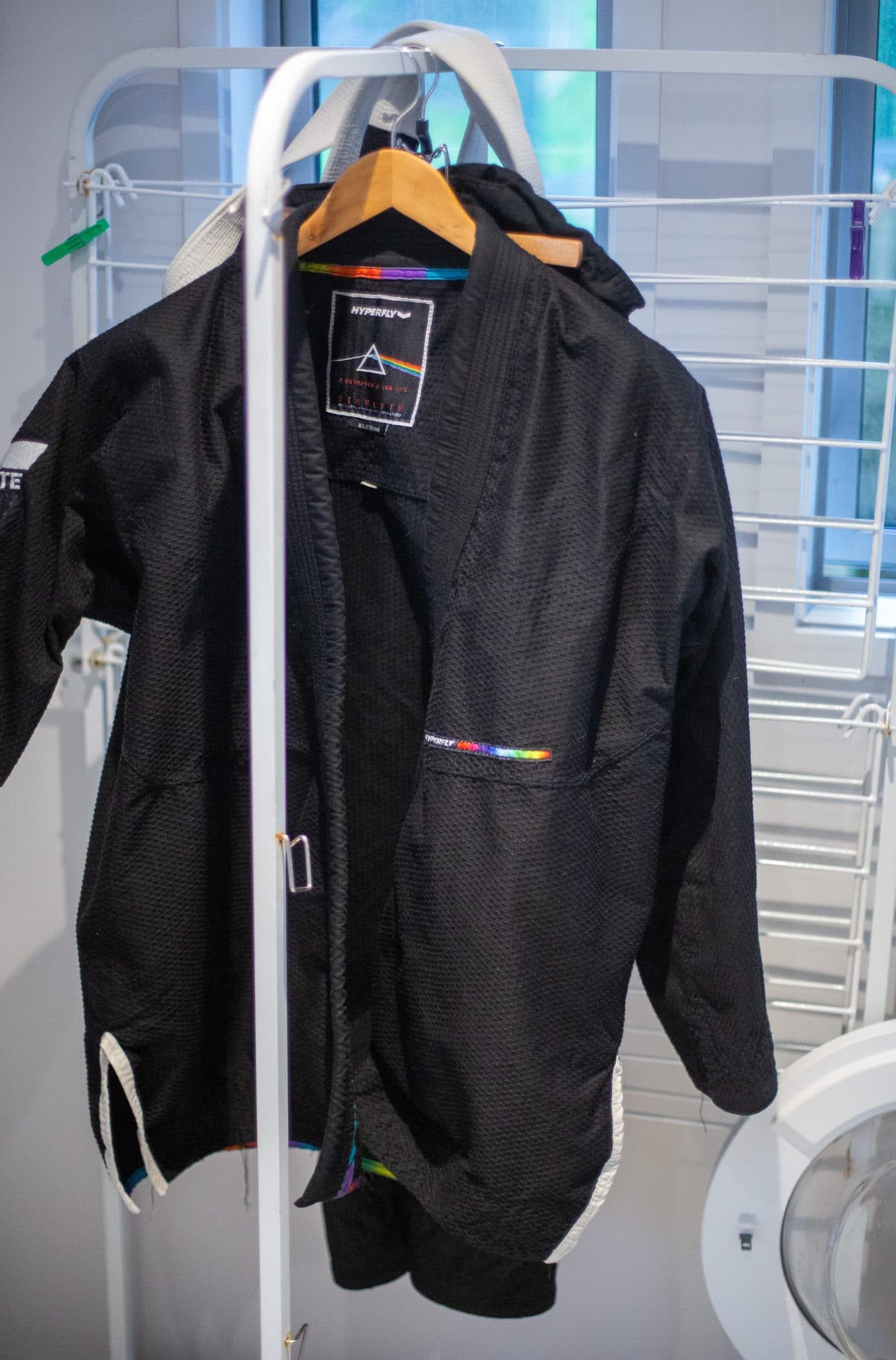 Ever pulled a beloved sweater from the wash and found it had transformed into a cloth suitable only for a toddler? Horrifying. The same holds true for your precious Hyperfly Jiu Jitsu Gi. Did you know your Jiu Jitsu Gi is susceptible to shrinkage if not cared for correctly? You might find yourself all geared up for an exhilarating session only to discover that your Gi has shrunk, transforming you into an inadvertent fashion disaster on the mat!
My dear aspiring Jiu Jitsu champions, let's tackle this predicament head-on! Here are some tips to keep your Gi looking sleek and feeling comfortable, just how it should be.
Wash with caution: Always remember to wash your Gi in cold water. Hot water is a sure-fire way to end up with a shrunken Gi. Do you have some stubborn stains? Spot-clean them instead of opting for a hot wash.
Easy on the dryer: If possible, avoid using the dryer as heat accelerates shrinkage. Let your Gi dry naturally for best results. If you must, then ensure it's in a low-heat setting.
Instructions matter: It might seem like a no-brainer, but checking the care label can sometimes be an oversight in our busy lives. They're there for a reason, after all!
Remember, a well-cared for Gi is not only a reflection of your passion towards the sport, but also indicative of the respect you hold for the martial arts tradition. Now, go forth and roll, knowing your Gi will serve you well!
Now – on the other hand, you might, like me, decide you want to intentionally shrink your GI a little to get it to fit a bit better. The key here is that results may vary. Take your time, you can always try to shrink it a bit more, but you can't unshrink something. Unfortunately, I managed to leave a GI and my belt in the drying in one attempt a little long – and the Gi seemed to shrink a lot more vertically than it did horizontally – leaving me with a jacket that is still big around me but shorter (near perfect) on the arms. The belt, however, seemed to go from an A3 to around an A1 – so a new one will be on the cards soon (I think it's potentially under competition legal length for me now).
Remember – you should wash your Gi after every session. Ideally, the sooner, the better – sweat stains and smell can set in if left for the weekend washing cycles – so I have developed a ritual of getting home and putting everything into the wash and on before I hope into the shower (we have an Infinity Gas system, so I appreciate that might not work out for everyone!).
Personally, I put mine on the short, 'delicates' wash – and use a capful of the Dettol Antibacterial Laundry Sanitiser. This cleans it enough (the Gi is generally still wet from sweat when it's in the machine), deals with any nasties in the uniform and doesn't subject the materials to too many chemicals on the regular. Then, once a season, I give it a longer wash and hit it with some Sard Oxi Clean (white GIs) to freshen it up a little extra. Hang dry, hot water cupboard if in a pinch (though, even in winter, they do tend to dry fairly quickly).
Choose Based on Weight and Weave
The heft of a Gi, alongside its weave, is a crucial factor to consider. Hyperfly Gis come in various weights and weaves, each providing a unique feel and fit. Lightweight Gis are perfect for hot climates, training sessions that have you sweating buckets, or simply those keen on a less constrictive feel. A heavier Gi, on the other hand, is more durable and can provide a tighter, snug fit. Understanding the different types of weaves and materials – such as single, double, gold, pearl and ripstop – will also help ensure you make a choice that aligns with your needs.
Keep an Eye on the Design and Details
The devil, as they say, is in the detail. Hyperfly Gis stand out not only for their functionality and durability but also for their unique, chic designs. While aesthetics might not be on the top of your list, who said you can't look good while flipping your opponent on their back? Choose a design that echoes your personality and makes you feel more confident on the mat.
At the end of the day, remind yourself that choosing a Gi is an individual choice. With this guide in hand, you're one step closer to finding a Hyperfly Jiu Jitsu Gi that fits like a glove, feels like a second skin, and, most importantly, enhances your performance on the mat. So, don your confidence, and happy shopping!
Top Hyperfly Jiu Jitsu Gi Collections: Which One Suits Your Style?
Stepping into the world of Hyperfly Jiu Jitsu Gi's can feel like entering a candy shop of sorts. The colours, styles, and impeccable designs can leave you spoilt for choice. Trust me, I've been there, and it isn't easy to decide. So, I've thrown together their top styles to help you determine which suits your style.
Of course, every Hyperfly Gi is more than just a piece of kit; it's like a second skin on the mat. Each one has its own personality and strengths, kind of like us. The best part? They wear in, not out. Isn't that what we all need from our gear? Ultimately, the best gi is the one that fits you perfectly and feels like a natural extension of you. It's comfortable, enhances your technique, and of course, looks good. Hyperfly Gi's personify just that!
---
| Name | Weight | Materials | Unique Features | NZD Price (at time of post) |
| --- | --- | --- | --- | --- |
| Starlyte II | Featherweight | 275GMS Star weave jacket, ripstop pants | Best for travel, quick drying and easily packable | $209 |
| Hyperlite 3.0 | Light | 350GSM Premium pearl weave Jacket, 8 oz drill cotton pants | Premium comfort and durability, multi-purpose gi | $242 |
| The ProCompLyte | Ultra-Light | 350GSM pearl weave jacket, 8oz ripstop pants | A tapered cut and reinforced stitching for high-level competition | $264 |
| Icon V | Heavier Side | 425GSM pearl weave jacket, 10oz canvas pants | Premium, classic design | $275 |
| MASTERFLY Gold Weave Gi | Heavyweight | 550GSM gold weave jacket, 10oz canvas pants | Heavy, serious kit with stiff, unfriendly too grip lapels | $319 |
| Limited Editions | Varies | Based on other GIs with graphics collaborations for design and colours. | Collabs for something super special | $407 |
---
The Hyperfly StarLyte
If you're an avid traveller or someone who enjoys the thrill of visiting different Jiu Jitsu schools across the globe, the Hyperfly StarLyte would be your absolute companion. Aptly nicknamed 'The Traveller's Gi', the StarLyte is distinctly known for its incomparable lightweight structure.
What sets the StarLyte so drastically apart from its counterparts in the Hyperfly collection are factors like its specially woven ripstop technology. As a fellow Jiu Jitsu nerd, I can assure you that this product's breathability and superior comfort are heaven-sent. The material dries swiftly, too, so you can train in sweltering heat or a sweaty gym and still walk out looking like you just strolled in.
Material: Made of 100% combed cotton, it's like the love child of durability and comfort in the best sense.
Design: Simplicity at its best, the StarLyte goes by the mantra, "less is more", giving off an elegant and minimalistic vibe.
Weight: Weighing just 1.2 kilos, it's won the hearts of Jiu Jitsu enthusiasts everywhere for being easy to pack and carry around on their globetrotting adventures.
Despite being the lightest Gi in the collection, it remains as sturdy as ever. Jiu Jitsu has always been about resilience and adaptability, and the Hyperfly StarLyte truly embraces this ethos with its design and performance.
My Starlyte is certainly my go-to when it starts to get hot (we tend to switch to no-gi for the intermediate class, but the fundamentals class stays in GI year-round). It's the softest of all my GIs – and 'nicest' to wear – however – it's also been commented on a couple of times – about how nice it is to grip as well. Which, in competition, is probably not something you want to hear (it's too light for IBJJF comp, anyhow).
"The StarLyte is more than just a travel Gi – it's a statement of resilience, adaptation, and responsible choices. It's also likely to convert you into a travelling mat-man with its easy-to-pack magic."
The Hyperfly HyperLite 3.0
I remember when I first slipped on the Hyperfly HyperLite 3.0. It was remarkably light yet exuded a sense of premium quality. This Gi truly lives up to the 'Lite' in its name – it's one of the lightest on the market. This is perfect if you're after a Gi that won't bog you down during training or competitions. However, it's worth noting that the remarkable lightweight nature doesn't compromise its sturdiness and durability.
What distinguishes the HyperLite 3.0 is its innovative design and material usage. Crafted from high-quality pearl-weave cotton, this Gi is resilient, comfortable, and flexible during matches. With reinforced stitching in key areas, it is made to endure intense training sessions and wash routines – a significant factor considering that your Gi will most likely be going through a lot of both.
My favourite aspect? The custom embroidery details. From the classic 'Hyperfly' sprawled down the sleeve to the striking, distinctive 'You can't teach heart' mantra embroidered on the jacket, this is a Gi that allows you to wear your heart on your sleeve – quite literally!
For me, the HyperLite potentially sits in the sweet spot for an all-around GI pick. It's light but still legal for competition (if that's your buzz), and a couple of these hanging in your wardrobe will have you sorted.
The HyperLite 3.0 was also a choice due to its versatility in offering various colours and sizes. Whether you prefer the classic black, stark white, or dynamic blue, there's a colour that fits everyone's preference. Overall, choosing the HyperLite 3.0 is an amalgamation of comfort, durability, and distinct design. Whether you're a seasoned veteran or a newbie in BJJ, this Gi aims to offer you a fantastic experience on and off the mat – while looking exceptionally good running through it. I couldn't recommend it more.
The Hyperfly ProCompLyte BJJ Gi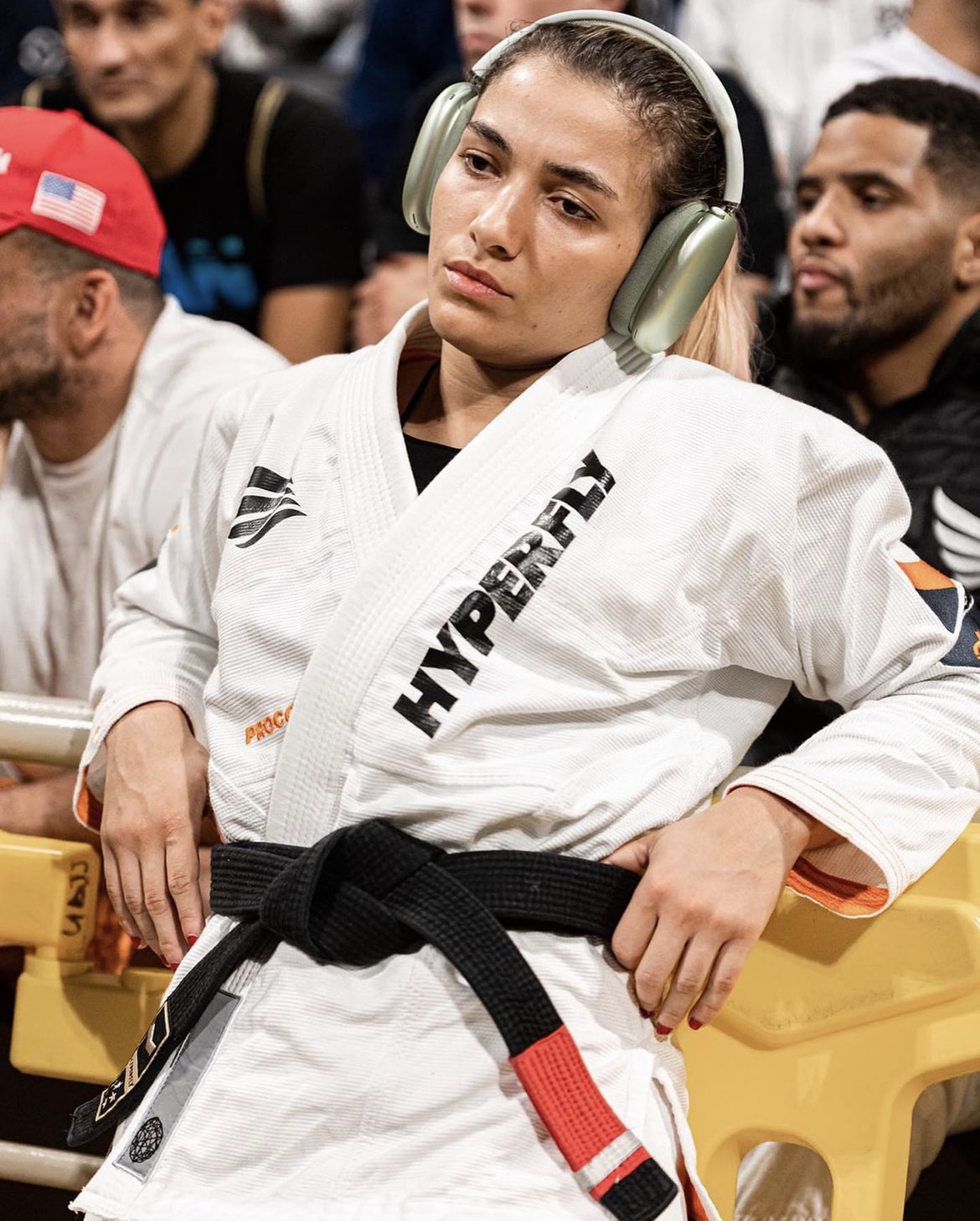 Ready to level up your Jiu Jitsu game? The Hyperfly ProCompLyte BJJ Gi is designed for those serious about the sport. It's more than just a Gi; it's a symbol of dedication.
Made with a lightweight pearl weave, this Gi provides enhanced mobility without sacrificing durability. Ideal for intense training and competition and sits right between the HyperLite and what was the ProComp.
The Hyperfly Icon V
Now, let's talk about a Gi that's truly a game-changer – The Hyperfly Icon V. This Gi is the epitome of style meets substance, and it's an absolute crowd-pleaser on the mat.
The Icon V is the fifth instalment in the Icon series, illustrating that Hyperfly is a brand that adheres to a philosophy of constant improvement. I have an earlier (2021 version) – and tempted also to grab the updated version. In terms of style, the Icon V is both elegant and assertive. The aesthetics are enhanced by detailed embroidery that adorns the back and the sleeves, showcasing the brand's logo and the word 'Hyperfly' in a manner that is striking yet understated.
But the Icon V isn't just about the looks; it's what's under the hood that makes the real difference. Crafted from premium cotton pearl weave, this Gi offers unrivalled durability without the discomfort that sometimes comes with hard-wearing materials. That's something I'm particularly grateful for – there's nothing worse than a gnarly mat burn when you're trying to focus on your techniques.
What really sets the Icon V apart, however, is its go-to-war attitude. It embodies the spirit and grit of individuals who seek mastery in Jiu Jitsu. So, when you step onto the mat with your Icon V, you aren't just donned in a piece of superior Jiu Jitsu gear; you're making a statement about who you are as a fighter. It's evident that the Hyperfly Icon V offers an ideal balance between functionality, durability, and aesthetics. If you believe in making each Jiu Jitsu session count and in doing so in style, this is the Gi for you.
Hyperfly MASTERFLY Gold Weave Gi
Let me introduce you to the jewel in the crown of Hyperfly's collection. Have you heard of the Hyperfly MASTERFLY Gold Weave Gi? If you haven't, you're in for a treat!
When I say this Gi is the epitome of luxury, I mean it. Crafted with a stunning gold weave, it's not just about aesthetics but also the phenomenal strength it provides. Imagine donning armour, but instead of heavy metal, you're enveloped in soft, resilient fabric; that's the Hyperfly MASTERFLY Gold Weave Gi for you.
How does it manage to achieve this balance, you ask? The secret lies in its intricately woven 550 GSM Gold Weave jacket combined with the 10oz drill cotton trousers, providing unswerving durability without compromising on elegance and comfort.
It's the detail that truly sets the Hyperfly MASTERFLY apart. Notice the embroidered logos and the specially designed gi bag that it comes with. It's these little touches that show Hyperfly's commitment to providing a Gi that makes you feel just as exceptional as the skill you bring to the dojo. And, of course, like all Hyperfly Gi's, it is imbued with D-Ring drawstring loops and a stretchy rope that ensures a perfectly snug fit every time.
The Hyperfly MASTERFLY Gold Weave Gi adheres to the International Brazilian Jiu-Jitsu Federation's standards, making it competition-legal and proving once again the brand's dedication to the spirit and stature of the sport. So, do you see yourself floating like a butterfly and stinging like a bee in this gold weave Gi? I thought you might.
Whether it's for training or competing the Hyperfly MASTERFLY Gold Weave Gi assures you are always dressed for success. Living by the Hyperfly mantra, "You can't teach heart", isn't it time you upped your game and added some gold to your Gi collection?
Limited Editions
Let's be honest – we all like to feel special, and nothing screams 'exclusive' quite like a limited edition item. Now, before you chuckle and dismiss this as a marketing gimmick, hear me out.
Hyperfly's limited edition Jiu Jitsu Gi's are truly a cut above. Think of these as rare gems, ornate feathers added to your cap that tell a unique tale. They intersect performance, style, and exclusivity, designed to make an impression that lasts on and off the mat.
Every piece within their limited edition ranges is crafted with the utmost attention to detail. The fabrics used are often experimental, creating a feel and fit that's different from their primary collections. But fear not, they're not compromising on the quality or durability, one iota. It's still very much Hyperfly making these.
Perhaps one of the most exciting aspects of Hyperfly's limited editions is the collaborative angle. Hyperfly often collaborates with top-notch athletes, global designers, and beloved characters to bring about awe-inspiring results. We're talking about Gi's that truly capture the spirit of the Jiu Jitsu lifestyle.
Remember, these limited editions are not churned out in volume production. Hence they tend to sell out like hotcakes. So, if you see one you like, my advice is: don't hesitate; grab it while you can. Trust me, the pride of ownership and the chance to occasionally boast about it are definitely worth it.
But hey, if this all sounds a bit too fancy for you and you'd rather stick to the basics, that's perfectly fine too! Limited edition or not, a Hyperfly Gi is a great investment if you take your Jiu Jitsu seriously. But, just between you and me, I do harbour some tender feelings for my limited edition Hyperfly, and I reckon you might too!
Don't forget to accessorise! Rash guards and other no-gi options
Before you go charging headfirst into your shopping spree for Hyperfly Jiu Jitsu Gi's, let's not forget about those all-important accessories. Of course, I'm talking about rash guards and other no-gi options. Just as important as the gi itself, these pieces are instrumental in defining your Jiu Jitsu journey, offering protection, functionality, and a dash of style to boot.
Rash guards: Your Best Defence on the Mat
If you're starting, allow me to fill you in. Rash guards are tight-fitting shirts specifically designed for grappling, and they are, in my personal experience, an absolute godsend. Not only do they offer a line of defence against mat burns, but they also help to regulate body temperature, wick away sweat and provide you with smooth, unrestricted movement.
Hyperfly rash guards are made of premium materials that keep you feeling comfortable and unrestricted, even during the most gruelling training sessions. What I particularly like is that you can find them in a wide array of designs – from minimalistic styles to vibrant prints. Go find one that matches your gi, or one that stands out, whatever floats your boat.
Short sleeve or long sleeve is a little bit of personal preference, I still have traumatic memories of doing the Round the Bays in a Heavy Kendo Gi (and armour) many years ago. My nipples still resent me for it. So wearing a layer to buffer between my skin, my gi, and also, potentially, someone else is a godsend.
No-Gi Options: When Gi Takes A Day Off
Jiu Jitsu isn't only about gis. There'll be times when you're practising no-gi Jiu Jitsu, and for these sessions, your regular workout gear isn't going to cut it. Between the grappling, sweating, tossing and turning, you need gear that can go the distance.
Hyperfly offers an excellent range of no-gi options designed to enhance your performance. There are no-gi shorts, spats, and rash guards tailored to provide maximum breathability, flexibility, and durability. And did I mention they look pretty cool too?
So, before you conclude your shopping expedition, take a moment to consider these essential accessories. Not only will they keep you safe and comfortable on the mat, but they'll also add a touch of style and personality to your Jiu Jitsu ensemble. Because in the world of Jiu Jitsu, as in life, it's often the smallest details that make the biggest difference.
Belts
If you're thinking of getting into Jiu Jitsu, there's one crucial accessory you can't overlook: the belt. Now, let's briefly delve into the world of Hyperfly belts and how they can elevate your combat experience.
In the world of Jiu Jitsu, a belt is much more than a simple accessory. It symbolises advancement, mastery, hardship endured and time spent on the mats. Wearing the right belt not only respects tradition but also enhances physicality and style.
Hyperfly's belts are woven to perfection, ensuring that there is no excess sagging, slipping off, or unnecessary bulging when you're on the mats. Durable and thick, crying out boldness, and maximum resilience, the belt can withstand intense scrapping and handling. Equally crucial is the aspect of comfort. They're designed to sit perfectly around your waist, enabling you to move freely without any hindrance. Comfort, freedom of movement, stylish… isn't that what you'd want from a belt?
Hyperfly offers belts in all the traditional Jiu Jitsu belt colours—white, blue, purple, brown, and black. Each colour represents a different level of skill and proficiency in the martial art, symbolising the journey from beginner to proficiency. So, no matter where you are in your Jiu Jitsu journey, Hyperfly has you covered!
So, when you're pondering about Hyperfly Jiu Jitsu Gi's, why not remember to select a belt that matches the elegance and functionality of your chosen attire? Envelop yourself in the Ironman spirit, strap your armour, and march onwards! Let the Jiu Jitsu traditions live within you!
Just be aware – they can, and do, shrink in the dryer. Ask me how I know! 😉
Hyperfly Jiu Jitsu Gi's: Embrace the Tradition, Embrace the Future
When it comes to embracing Jiu Jitsu, the right Gi is uncompromisingly critical. Just like the sport it serves, the Gi has a rich history deeply grounded in tradition while continually evolving to cater to the present and future needs of the athlete. Naturally, this is where Hyperfly Jiu Jitsu Gi's step in.
Hyperfly, through every stitch and thread of their Gi's, embodies the seamless blend of tradition and innovation. Each design reflects a timeless aesthetic, a nod to the Gi's historical roots while incorporating the future with the most advanced technology and design features. The signature balance of comfort, durability and style is unmistakable.
I dare say, Hyperfly's approach to the Gi mirrors a Jiu Jitsu fight itself—grounded in traditional techniques yet open to creative variations and improvisations that keep you one step ahead of your opponent, right on your toes. Now isn't that a fascinating perspective?
But it's not just about the present and the future. With Hyperfly, you embrace tradition too. Aesthetically and functionally, you get a Gi that appreciates its origins. There's something special about donning a Hyperfly Gi; it's like putting on a mantle of tradition, stepping on the mat knowing you're part of a grand legacy, but also writing a new chapter, your own chapter, in that legacy every time you roll.
Lastly, a purchase of a Hyperfly Gi isn't just about embracing tradition and the future of Jiu-Jitsu, but it's also about being part of a community. A global network of athletes, aficionados, and learners that constitute the larger Jiu-Jitsu family. And let's not overlook the sportsmanship, camaraderie and respect that the brand fosters among athletes.
For the beginners, and the seasoned alike, Hyperfly Jiu-Jitsu Gi's offer an unparalleled grappling experience. They're your suit of armour on the mat as you navigate your way through technical manoeuvres, arduous training sessions, and heart-racing matches. And while you're at it, they ensure you look just as good as you feel. Embrace tradition with the time-honoured design cues, and embrace the future with cutting-edge improvements – it's all there in your Hyperfly Gi.
So really, when you opt for a Hyperfly Jiu Jitsu Gi, it's not just a garment you're investing in; it's an entire philosophy. An ethos that pays homage to the tradition of the sport while boldly embracing the future. Here's to rolling on with that spirit!