While my Mystery Ranch Crew Cab and High Ground Gear HG831 are awesome for their ability to grow or shrink to fit the job at hand, the simple fact is that the Cordura material is far too noisy for stalking in the bush. Every time you brush by a branch or bush you hear that slow scraping sound that makes you wince. It was time to sort a decent 'day-bag' made out of silent material.
The Hunters Element Contour Pack is made out of WaterTEC DRYstealth – essentially a dual layer water resistant material. Similar in feel to the material used in their Rugged Bush coat and other clothing items. Brushed Tricot in nature, it is a waterproof layer sandwiched with the soft, silent outer.
The Contour Pack is in the middle of Hunters Element's range. At 25 liters its about right for a proper daypack – the type where you are carrying not on the 'essentials' but everything appropriate given you are likely off track, bush-bashing. Extra clothing, some shelter, first aid, your lunch and water – all fit into the pack easily.
Pockets, more pockets
The Hunters Element Contour Pack has (I guess depending how you count them) a total of 5 pockets. A large main area with a smaller hydration slot in the back, a smaller top pocket for incidentals two side pockets, one with additional organisation in it and one without and a smaller pocket under the pack that holds the rain cover.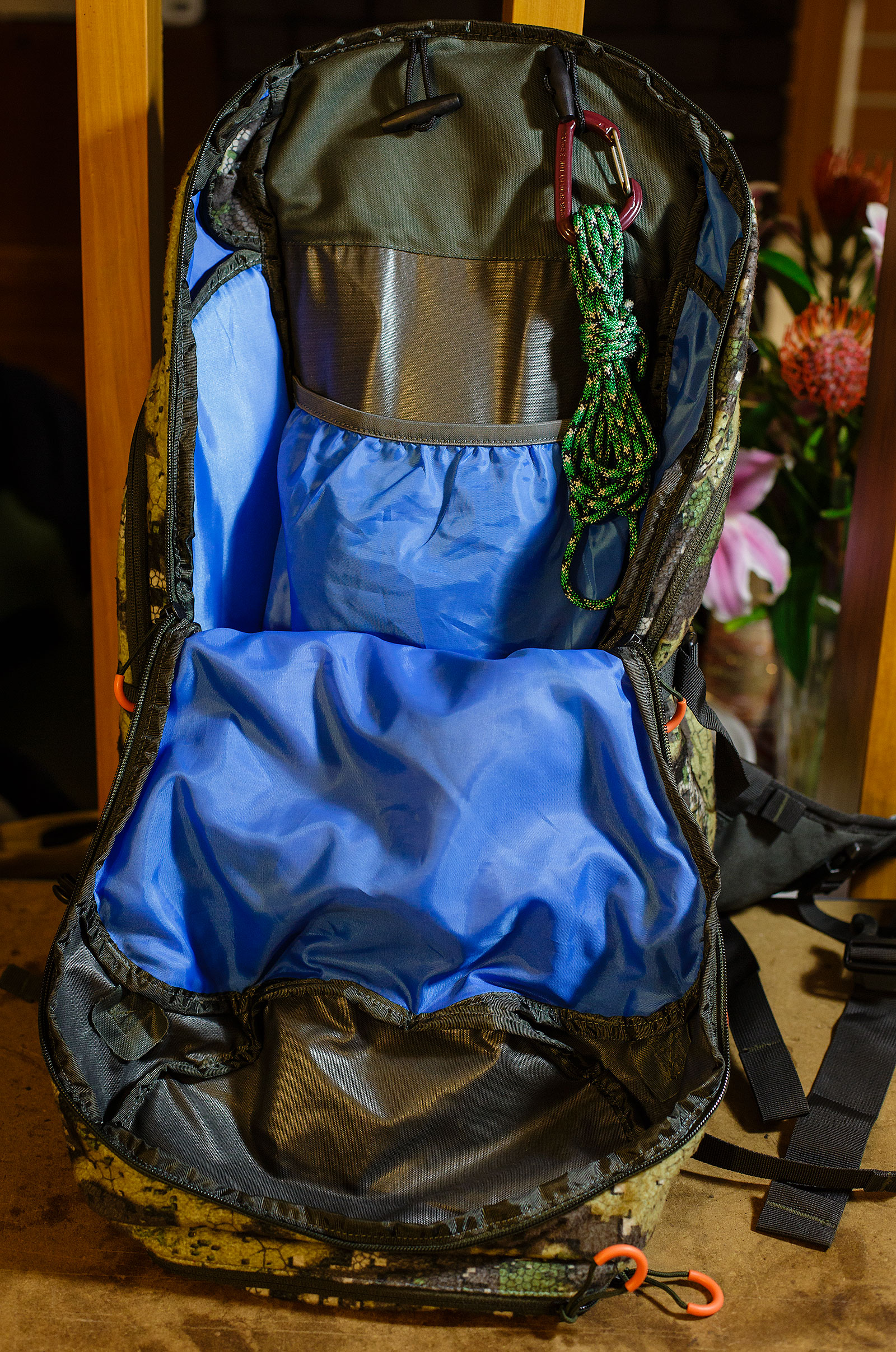 The main pack space is the 25 liters – and the zips open right up, allowing easy access to the contents of the pack. Inside is a smaller slot to hold a hydration bladder or something else small that you want to keep in place. To fastening points at the top of the bag can be used for clipping on a bladder, keys, rope, anything you want to keep accessible. The top of the pack also features an outlet for the bladder hose, and one shoulder strap has a clip to hold the hose in place.
A smaller top pocket on the top of the Hunters Element Contour Pack is ideal for things you want to have quick access to – a GPS or map may be?
One side you have a pocket that includes a couple of zippered mesh inner pockets as well as some elastic for rounds (or pens). Carry your first aid kit in here.
The other side features a large, padded pouch. Designed to carry the spotting scope, but also good for carrying things like a thermos. At least, that's what I use it for.
The Frame
There is a rigid frame incorporated into the design of the Hunters Element Contour Pack. This frame actually keeps the pack a fair distance of the back – so airflow is no problem – meaning you are not going to get sweaty back while wearing this pack. It also gives the pack some structure. If you want to roll the pack up to stuff into a larger pack, no problem, just take the frame out. It's not going to roll down as small as some other packs, but as a trade-off, it's going to have a better strapping system, more comfortable for longer.
Cover, waterproofing
Down the bottom of the pack is another pocket that holds the rain cover. While I would suggest the Hunters Element Contour Pack is water resistant, any good downpour and you are going to want to put this cover on. In addition, it's close to blaze orange – so good to give an extra heads up to anyone else that might spot you in the bush. Not that anyone would be shooting without identifying their target 100%, but it all helps, doesn't it!
Overall
For my current use, it's excellent. I have been using it as a daypack – mainly for literally day to day use (going to work, gym and so on) as well a day trips in the bush locally. While it's heavier than a dedicated tramping style day pack, it's silent and likely more robust. It has certainly come with me on several bush bashing expeditions and looks no worse for wear.
It's probably just a bit too small to fit an overnight load into it – which makes me also interested in their larger Peak Pack as well. With 45 liters I could conceivably also carry all my sustainment gear in the one, quiet pack. Stalk all day and then just set up camp wherever/whenever I feel like it. May work. May be a bit too much work. But worth trying out!