For the majority of New Zealand trampers, you will spend most of your time on well established and marked tracks. However, the ability to know where you actually are, at any given time, cannot be underestimated. Especially if at some point you plan of evolving into bush bashing or unmarked explorations. Something like the eTrex 30 from Garmin will make things a lot easier.
While I still pack my Topo Maps and Compass whenever I go out (as should you) – I wanted to have a device to record my trips, as well as provide an easy way of finding out where I was at any given time. Hence my interest in getting a GPS unit.
During my sessions with the Mountain Safety Council, we spend a lot, even the majority of the time, focusing on location awareness and accurate navigation while in the bush.
The MSC navigation courses teach you how to read a Topo Map both with and without the assistance of a compass. After a while practising, you start to gain an understanding of what all the squiggly lines over the map actually means, and how that relates to where you are.
Previously, I had owned a NavMan unit and used in extensively in the car. To be blunt, I suck at remembering road names, even had lived in Auckland most my life, I still don't know which road is which, and a unit like that was a godsend.
However, I had a few additional considerations
Weight – I have to carry everything I take with me, and because I am already lugging around a pile of camera equipment, I try to reduce weight wherever I can – yes, I guess really, I could not take one at all, but then you wouldn't get all those cool GPX files at the end of trip reports – would you?
Battery Life – at one of the MSC courses, another participant was keen to show off a new Garmin he had been lent to test out – a Montana – large touch screen, heaps of gizmos, lots of weight, battery dead with 8 hours. No thanks. Besides, I don't need to be carrying around yet another camera with me – I have a Digital SLR that weighs a ton, my phone has one, my GPS doesn't need one.
Weatherproofing – I expect it to get muddy, and potentially wet – we are in the bush, after all.
So, I did what most people would do, and read every single review I could find on the internet in a quest to find the best GPS unit on the planet.
Man was that confusing.
However, in the end, I did find the Garmin name pop up again and again, and the had a couple of new models that seemed to fit my requirements. After a couple of false starts (it was pre-release when I started trying to order one) – I got mitts on a unit, and was soon trying to figure out how to use it.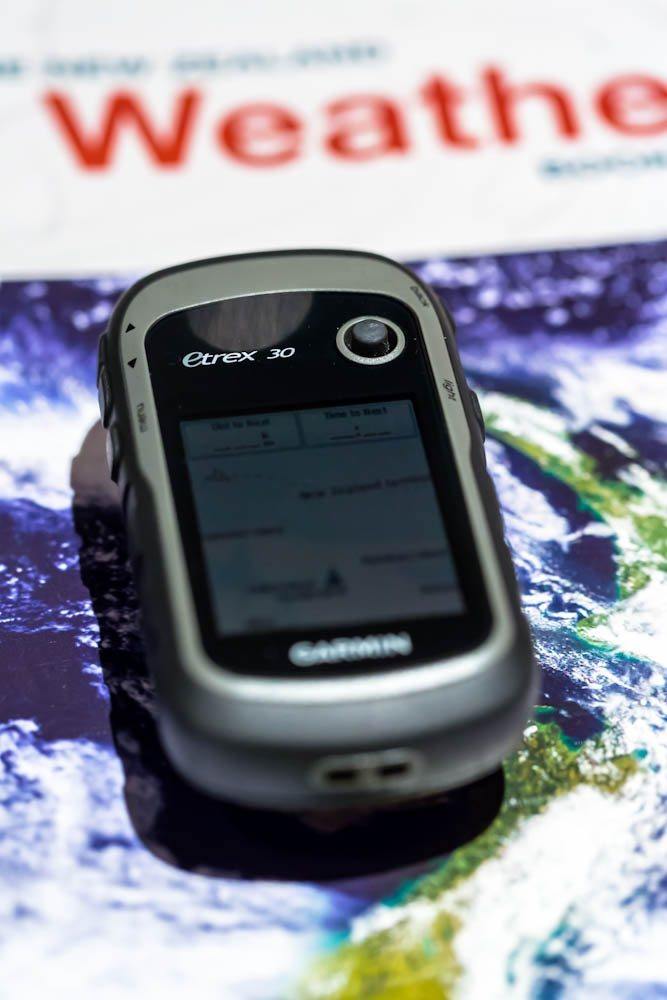 First thing – you don't have to pay for maps! Pop over here – NZ Open GPS Project – and have a good read. Sure – if your not overly technology orientated, then just pay for… wait – you have a digital unit, that you are going to rely on to tell you where you are in the bush, and you can't be bothered learning how it works? Come-on! Go over there – learn how easy it is to install custom, open source maps, and get to know your technology a little better at the same time!
Anyhow – loaded up Topo Maps, as well as a turn-by-turn street map for NZ. Fairly easy, just downloaded Basecamp from Garmin and installed in onto the eTrex as instructed – good to go!
I would suggest you just take the Garmin with you on a couple of day walks, to work, around town, anywhere just to get comfortable with how it works, and how to 'drive' it. The last thing you want to do is get out into the back country with it, and not know how it all works.
It now goes out with me on any trip into the bush – and here are a few things I have noticed;
I tend to use it simply as a quick way for find out my current Grid Reference – then I get out the Topo Map, confirm my position, and work from there – I still prefer looking at a bigger map, than that screen.
The ETA times seems to be somewhat random – I need to read up online and see how they are calculated. The have been observed to be hours (up to 4) out at times.
It gets as much use on the Motorbike as it does on Tramps
I will probably never use half the features on the eTrex 30
On the Bike
I didn't really buy the eTrex thinking I would use it other than in the bush, but the realisation came to me that I had a GPS unit that could be used in the rain, for example – on the back of a motorbike. I ordered one of the bike frame clamps, attached it to the triple clamp on the Triumph with some cable ties – and suddenly had an excellent dual-use GPS.
This is where the profiles come in very handy – I can quickly switch map (Topo/Turn by Turn), back light options, data fields and several other options in an instant. This makes it easy to switch from one to the other, as I don't have to re-setup the eTrex depending on how I am using it.